Events

A Musical Journey through whistling – "Mile Sur Mera Tumhara…" on 31st October 2020
Please click the above image or link to watch the program. Please donate generously. Thank you.
Uddandapuram Village "Mother and Daughter vaccination Program" – (December 2019 – March 2020)
Maanavseva initiated Cervical vaccinations and preventive screenings covering teachers, students and mothers, in Zilla Parishad Govt. High school of Uddandapuram in Nakkapalli Mandal, near Tuni. In this effort Maanavseva partnered and took help from volunteer coordinator and Head Master Sri Srinivasa Rao Kodi and BIG HELP, USA. After an initial meeting of the team at HBCH&RC,  Lakshmi and myself together with Dr Raghunadha Rao and Dr Leela garu had the opportunity to kick start this program with a visit to the village on 24th December 2019.
Thanks to the dedication and help from local team, the awareness program is a huge success. This event was followed by further awareness campaign, distribution of leaflets and then several rounds of vaccinations to girl students, preventive screenings to their mothers and teachers in the month of February 2020. HBCH&RC team headed by Dr. Leela and Dr. Raghunadha Rao spearheaded this program organizing, providing logistics and hospitality. So far 70 school school girls had their initial dose of cervical vaccination and all their mothers and teachers went through preventive screenings. Medical camp is being planned for the mothers of Boys and remaining women who could not get preventive screenings so far. Currently the project is in last phase and is on hold due to Coronavirus  restrictions.
Click here to see the pictures taken during village visit, awareness meetings, press coverage and various rounds of vaccinations, screening tests etc.
Aganampudi Village "Mother and Daughter vaccination Program" – (December 2019 – March 2020)
Maanavseva adopted Zilla Parishad Govt. High School at Aganampudi – a predominantly underserved community and addressed the teachers, students and parents there. After creating awareness, provided cervical vaccinations to all eligible school girls. In addition, mothers and teachers were educated on the Oral, Cervical and Breast malignancies and the need for preventive screenings. Preventive screenings and Mammograms were taken in batches for mothers and teachers. The program which started in August 2019 is now  almost complete. Around 75 girls completed the vaccination schedule and remaining 25 girls will complete in the 1st week of April pending the current situation. All their mothers and teachers were screened and the reports are normal.
Please click the link here to see the pictures taken during various rounds of vaccinations, screening tests etc.
4th Annual Fundraiser event "Pibare Ramarasam" on 21st September 2019
Inspired performances in service of a great cause. That was the feeling at the 4th annual celebration and fundraising event of Maanavseva, a non-profit organization with a mission to aid underserved women in India. The focus is on preventing, screening, and caring for cancers in women and girls.
The fundraising event was titled, "Pibare Ramarasam" comprising two performances that drew audiences into the essence of Lord Rama and a musical giant's unswerving devotion to Lord Rama. Nearly 600 people attended the event on Saturday, 21st September 2019 at Ashland High School in Ashland, Massachusetts. The program was ably emceed by Smt. Pratima Penumarthy and Nagasree Chakka.
The fundraising event's first performance was 'Sri Sitarama Kalyanam', a dance drama in the Kuchipudi style. It started with the births of Lord Rama and Sita Devi with the events as narrated by Sree Valmiki Maharishi, together with poems and songs (keertanas) written by the eminent spiritual leader Brahmasri Dr. Samavedam Shanmukha Sarma. The sequence of events included: 1) sages praying to Lord Maha Vishnu, 2) King (Maharaja) Dasaratha's Putra Kameshti Yaga (elaborate rituals praying for a son), 3) birth of Sree Ramachandra along with three other brothers, 3) the reason for naming the Lord as Rama, 4) Dasaratha and the mothers' love towards Sri Rama, 5) King Janaka prayers (yagam) and the birth of the divine mother Sita, 6) Rama and Santa Devi samvadam (debate), 7) Rishi Viswamitra's yaga rakshana (protection), 8) Ahalya sapa vimochona (lifting of a curse), 9) Sita swayamvaram, and finally Sita kalyana. There were over 60 performing artists – all working in good synchrony.
 Smt. Sailaja Chaudhary Tummala directed and choreographed the entire performance. It was very impressive to see dancers and performers of all ages come together seamlessly to put on a fabulous show. It was based on excerpts from the Ramayana till the marriage of Sri Rama with Sita and was compiled by Sri Krishna Vempati. The music composition was by Sri Phani Narayana Vadali. The amount of practice and preparation was evident by the care with which each scene was developed and presented.
The second performance narrated the life story of Saint Tyagaraja whose numerous compositions form the foundational core and body of Carnatic Music.  Called Tyagarjaja Vaibhavam, the musical ballet, in ten meticulous scenes, took the audience through the pious, humble and devoted musical life of Saint Tyagaraja. This was another masterful display of acting, music, pathos and devotion. The story, music and performances took us on a journey that included: Tyagaraja's humble beginnings; his reluctance to be a court musician to King Sambhoji; earning the praise of his teacher, Venkataramayya, and his renowned contemporaries; suffering his brother's anger and jealousy; losing and gaining of his dear figurines, Rama Panchaayatana vigraha; accompanying Sundaresa Mudaliar's pilgrimage; reaching Tirumuala Tirupati; eventful journey home; and finally attaining liberation. Srinivas Balabhadrapatruni brought to life Saint Tyagaraja. He was ably supported by Padmaja, his wife in real life and in the story, and many many other talented local artists. More than 85 artists participated in this musical.
Embedded in this play, there is a dance drama on Ramayana, which in of itself was a joy to watch.
Maanavseva acknowledges the support 100s of Indian community members and organizations that worked very hard to make this event successful. For detail list of volunteers and sponsors, please refer to the PDF copy of the souvenir that we distributed on the occasion of the event.
3rd Annual Fundraiser event "Swara Seva" on 29th September 2018
The 3rd Annual event and fundraiser for Maanavseva, a local non-profit organization was celebrated on 29th September at Algonquin Regional High School Auditorium in Northborough.
This year the theme was "Swara Seva" to "Maanavseva". Even though Maanavseva wanted it to be multilingual, due to the very nature of the activities involved, it was limited to Telugu Language for this year and hence the target audience was Indian Telugu community.
The program started with an Antyakshari competition that started at 2 PM. There were approximately 35 participants that formed into 8 teams and it was conducted by the well-known writer, movie maker Sri Srinivas Phani Dokka who came from Atlanta to be part of this event.  There was some audience too. It was fun and well-liked by all. The competition concluded at around 3:40 and two teams were declared winners.
The main cultural program that started around 4:30 consisted of 26 old movie songs sung with karaoke. These songs were carefully picked from 50s, 60s and 70s movies. The singers were both local and within US from Atlanta and New Jersey. In total there were 15 singers and 10 MCs that introduced the songs and the singers and their performance was excellent. Maanavseva mission, activities and future plans were presented in between the songs.
There was a rare presentation of the old dying folklore style of storytelling called "Burrakatha" prevalent in Andhra Pradesh and Telangana. The narration of the story is done through songs, dance and humor. This was the first time that such an attempt was made in New England.  Required instruments were brought from India. The story telling is done on stage by 3 performers in traditional attire. Audiences were thrilled and it was a huge success.
Another guest to the Program was Sri Meer Abdulla, who is a co-producer and actor in Telugu movie "Padamati Sandhya Ragam" released in the 80s. The movie for the first time, depicted a love story between a south Indian girl and an American boy. It won several awards. Meer inspired the crowd with his motivational speech.
Sri Subbu Kota, well known philanthropist and entrepreneur and Dr. Ammani known for her strong support to both cultural and service activities, here in New England, graced the event and presented mementoes.
5th and 6th February 2018 Medical Camps in Pedda Pahad village near Jangaon, Telangana:
Maanavseva conducted medical camps for women for 2 days in Pedda pahad and Jangaon. These camps were successfully conducted in association with the local village leaders at Pedda Pahad, National Institute of Technology, Warangal Alumni Association (NITWAA) and with the help of Grace Cancer Foundation, Hyderabad whose mammogram vehicle and medical staff were used to conduct tests.
Several volunteers worked very hard for the success of these medical camps. Mr. BN Mohan, Mr. N Mohan, Mr. Ravi Keshav, Dr. Partha Sarathy, Sarpanch and other local officials at Peddapahad, DMHO Smt. Dr. Anna Prasanna, Mr. Rajesh and his team to name a few.
The medical camps were a great success. A total of 175 women registered for the camps. Nearly 90 pap-smears and 100 Mammograms were taken. Local newspapers and media covered the event. Maanavseva active volunteers are  now doing follow-up work. Dr. Ghanta Venkata Rao from Warangal has kindly agreed to help us with regard to follow-up work, further diagnosis, treatment plan as necessary. Maanavseva is committed to follow through and handhold the women affected as needed till their treatment is complete.
Here is the summary presentation of the event including pictures taken:
Here is the local TV coverage.
18th and 19th November 2017 Medical Camps in Gorlapet, Vizianagaram District (AP):
Maanavseva conducted medical camps for 2 days in the Village Gorlapet in Vizianagaram district. Dr. Leela Digumarti,  conducted these camps with the support and help from Vikasatarangini. Here  are the pictures taken and a brief report from Dr. Leela Digumarti:
Dr. Mrs. Leela Digumarti,
MD, DGO, DNB, FRCOG (UK)
208 Green City Heights, Green City,
Yadavajagarajupet, Vadlapudi post
Visakhapatnam 530 046, India
Respected Sastry garu,
As planned we did the screening camp at Gorlepet with the help of Vikasatarangini team. As per the survey done prior to the camp, there are about 280 women eligible for screening. All these were requested to attend the screening camp. Only 67 women attended the camp. 50 women had cervical smear test. 28 women are in the age group of 40 to 60 who can be called for mammography.
The following are the reasons for lesser turnout in-spite of showing enthusiasm at survey and registering the names.
1. It is harvest season and they do not want to lose their daily wages.
2. Common observation and experience from previous camps is that generally about one fifth of women surveyed will utilize the opportunity. The turn out here is very similar to the past observations.
3. There is still taboo in villages to attend for screening as they are afraid that if they are diagnosed with some problem, family may throw them out.
Anyway, none of us are upset and we would continue with our work. We are planning to go back to village with reports of smear test and convince the remaining women for screening.
With regards,
Dr. Mrs. Leela Digumarti,
29 th July 2017 General Body Meeting and Active Volunteer discussions of Maanavseva:
16th April 2017 Fundraising Opportunity:  Participation in" Annamayya Utsavamulu" as an exclusive sponsor of "Srutilayalu". 
10th January 2017 and 1st February 2017:  Meetings with MIMS (Maharajah Institute of Medical Sciences, Vizianagaram) by Maanavseva, USA together with Regional Cancer Hospital, Vizag.
Maanavseva has proposed a plan to provide preventive health care education and screenings to village women in the villages around Nellimarla mandal.
The focus would be to cover 100% of village women in Ramateerthalu / Dhannanapeta village and conduct preventive screenings as per the prescribed guidelines of HBCH&RC together with MIMS. Once the pilot phase is successfully completed, MIMS will expand this project to cover other villages in the Mandal.
The objective is to educate, create awareness and conduct preventive screenings for rural women who are currently underserved. Apart from the benefits of creating awareness and education about the most prevalent malignancies for the underserved rural women, the project will study and document the challenges and provide action plan to overcome those challenges. All those who are affected / diagnosed during the preventive screenings will be followed-up further and all necessary treatment will be provided by way of facilitating care and or financial help.
MIMS will provide manpower resources, and Dr. Bharani Krishna of MIMS will plan the initial phase. MIMS will form the teams, conduct the education and awareness campaign and conduct preventive screenings, collect samples and in association and under the direction and training of Dr. Raghunadha Rao & Dr. Leela Digumarti of HBCH&RC.  Maanavseva will provide the logistical support, vaccinations, test kits and any other help as needed through Sri Sudhakar Mylapalli who will act as coordinator for Maanavseva.
We anticipate completing the pilot phase in 2 to 3 months.
8th October 2016 (1:00 PM to 10:00 PM):   TAGB 30th Anniversary Celebrations,  100 Shawsheen Rd, Andover, MA 01810, USA
 13th August 2016 (2:30 PM to 8:30 PM):   India day Celebrations at DCU Center, 50 Foster Street, Worcester, MA , USA
For the second year in row, Maanavseva participated in the annual India day celebrations organized by ISW.  People from the Worcester community and beyond attended. Hundreds of performers put on a diverse mix of song and dances from more than 25 different States of India. Mayor Joseph Petty of Worcester read a declaration recognizing India Day and the 69th anniversary of India's independence.
Maanavseva stall was visited by many and we had several volunteer / subscriber sign-ups.
20th February 2016 (5:00 PM to 8:00 PM):   Anniversary Event and Fund Raiser at McCarthy Middle School, Chelmsford , MA  – USA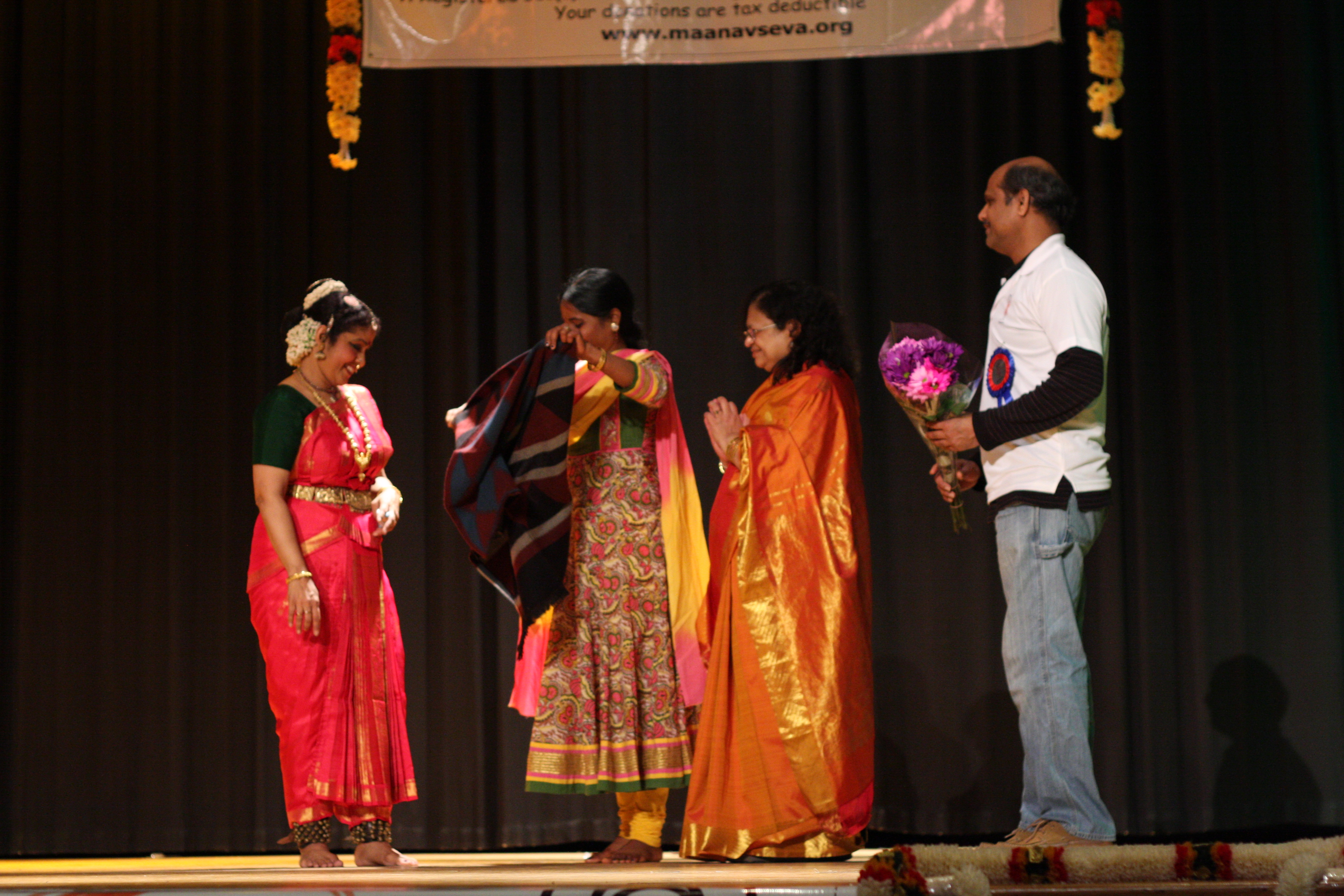 Maanavseva celebrated its first anniversary !
Padma Shri Dr. Ananda Shankar Jayant, a celebrated and accomplished Bharatanatyam and Kuchipudi Dancer from Hyderabad, India was the headline artiste for the evening. She mesmerized all of us with her inspiring story and a scintillating dance performance! The event was a grand success with over 500 people in attendance and we raised more than $25,000 during the event for the cause! Here is our brief report:
The event was a fund raiser for a mobile mammogram vehicle for deployment in rural India. At the event, Maanavseva's founders, Sastry and Lakshmi Dwivedula and its team members presented their vision, goals and efforts already underway in India. Video clips from the doctors who were instrumental in working in the area formed part of the presentations.
State Senator Jamie Eldridge, Community leaders Dr. Ammani Dasari, and Shri. Mohan Nannapaneni spoke passionately about the diseases and healthcare, charity organizations and their need and benefit to the society.
Dr. Ananda, a Padma Shri awardee, from Hyderabad, India, mesmerized the audience through her graceful and vivacious dance with such joy and expressive facial expressions that it felt not like a solo performance but a ballet production! She performed scenes from Ramayanam composed by Saint Thyagaraja and Tarangam. She then emoted with her dance the nine moods in the Navarasa piece. While she invited the audience to compose a story of their own around the moods, she narrated the feelings she went through as she faced cancer – anger, fear, disgust, wonder, courage, sadness, humor, love and peace. Her remarkable journey is impressive as she deployed her passion for dance as a major healing power. She strongly supports this cause and her words before each segment of her performance were immensely appreciated.
"While cervical and oral cancers can be screened through medical camps, breast cancer screening requires expensive equipment and the rural folks are reluctant to travel to the nearest center for such screening. Having a mobile vehicle fitted with equipment and accessories to screen for all the three types would greatly benefit the rural women", expressed Mr. Dwivedula, speaking about the current drive.
A silent auction was conducted to raise funds, from items donated by community members and major local sports organizations like Boston Bruins. This helped raise $405. With the help of generous donations, $12,305 was raised, which was matched by the founders, bringing the amount to a total of $24,070. Corporate and individual sponsors contributed another $4,500 towards expenses via their advertisements in the event brochure.
Shri Shirdi Sai Temple volunteers, Shan's Kitchen and more volunteers provided a delicious dinner to the attendees. Maanavseva is thankful to the success of the event and the dedicated commitment of the volunteers who worked tirelessly in each and every aspect of the event.
  23rd January 2016:   at TAGB Sankranthi Sambaralu,
16th August 2015 (6:00 PM to 8:30 PM:   Stall at Sobharaj Music Program, Chinmaya Mission, Andover, MA , USA
Maanavseva staged a stall at the Chinmaya Mission on Sunday the 16th of August during the music program led by Padmasri Srimati Sobharaj, a prominent telugu singer who devoted all her life to bring life to Annamacharya Keertanas. She is well recognized and is touring USA to raise funds for a music school that that she started.  The program is Houseful and auditorium was quite packed with around 250 serious listeners. We thank Sri Bhupati Raju garu and the team for the opportunity given.
Maanavseva had the opportunity to volunteer on this occasion and also display our activities. Several people went through the information and assured us support and involvement.
15th August 2015 (2:30 PM to 8:30 PM:   India day Celebrations at DCU Center, 50 Foster Street, Worcester, MA , USA
Maanavseva celebrated India Day and participated in the festivities being organized by ISW on Saturday, 15th of  August. It was a very large gathering of Indian community and several states were represented. Our stall was at a key location (near the food court !) and hence we were having non-stop traffic and audience.  Several 100s of people visited the stall and heard about our activities and watched the slide show. We had a constant slide show on a large screen showed the pictures from Dhannanapeta Door to door campaign and the medical camp organized last month. Guest register was signed by many people and some of them expressed interest in volunteering as well. Overall, we felt that we got lot of attention and the name of Maanavseva and its goals and objectives were well spread. Particular thanks to Maanavseva Volunteers Sri Ram Reddy, Sri Koteswara Rao Kandukuri, Sri Sreenivas Kaki and Sri Radha Raman Gargeya. We distributed as giveaways promotional material (Measuring tape with Maanavseva imprinted on it –  donated generously by 4imprint, an online custom promotional material store! We thank them for their support. We got some donations too!
Maanavseva thanks ISW and the team for the opportunity provided to us.
Here are a few pictures from the event:

In the past:
19th July 2015:     Medical Camp in Dhannanapeta Village
A medical Camp was organized on 19th July. The camp was conducted under the directions of by Dr. Leela and her team from Homi Bhabha Hospital and also Dr. Padma Kumari and her team from Vizianagaram. 4 doctors and 2 nurses and around 12 volunteers participated. About 300 men, women and children attended the medical camp. In addition to the physical check-up, all the women were screened for oral cavity, breast and cervical premalignant lesions. All men were also screened for oral lesions. Out of 46 women, 23 underwent PAP smears and VIA testing. In 4 cases where the test results are positive, further confirmatory tests are scheduled at the HBCH&RC.  Homi Bhabha cancer research center will analyze the collected samples and data and provide feedback with results to the women and the necessary follow-up and handholding will be done by the volunteer team.
Participating Organizations:   The following Organizations have participated in the door to door campaign and the subsequent medical camp that took place on 19th July.
Vikasa Tarangini (Women's welfare social service Organization) of Vizianagaram
Rotary Club of Vizianagaram
Homi Bhabha Cancer Hospital and Research Center at Visakhapatnam
Maanavseva of USA and Maanavseva Trust in India
Village Officials and Social Workers at Dhannanapeta & Koradapeta
15th to 17th July 2015:     Door to Door Campaign in Dhannanapeta and Koradapeta Villages 
Two Villages namely Dhannanapeta and Koradapeta were selected for the pilot studies. After discussions with the village officials and the volunteers, a door to door campaign has started on 15th July. Volunteers covered street to street asking questions completing survey forms and providing information  about the medical camp. A total of 440 survey forms were completed covering the 2 village households. All households were told about the Medical Camp being organized on 19th July at Dhannanapeta. These survey forms will be the basis for ensuring that all village women were approached and examined. This will also become the basis for evaluating the effectiveness of our education and awareness campaign in village women.
12th April 2015:     Training the Volunteers at Vizianagaram 
Dr. Leela Digumarti, MD, DGO, DNB, FRCOG, Gynaecological Oncologist from Homi BhaBha Cancer Hospital, Visakhapatnam along with her team provided detailed training to the Volunteers who will be conducting door to door campaign of the very first Village "Dhannalapeta" belonging to Nellimarla Mandal of Vizianagaram District.
17th February 2015:  Presentation at Rotary Club of Vizianagaram, India
Maanavseva founders Sastry and Lakshmi Dwivedula gave a presentation at the Rotary Club along with the Project Director of Homi Bhabha regional cancer hospital at Visakhapatnam, Dr. Raghunadha Rao Digumarti. The presentation was attended by around 50 Rotarians. President Rtn. Sri Kiran Babu  welcomed the gathering and Rtn. Sudhakar M. introduced the guests. Members have shown keen interest on the project proposed by Maanavseva.
After the meeting the club discussed the project in a small gathering and accepted in principle to partner with Maanavseva. Vizianagaram Rotary Club has decided to add this as their internal project and help in identifying the village(s) for conducting the pilot and provide help and support for door to door campaigns, medical camps etc. as envisaged by Maanavseva.
In addition, the Rotary club will also support the endeavor of Maanavseva to procure a "Mobile Mammogram Unit" by way of submitting the equipment purchase proposal under the Rotary International Global Grant Scheme. Maanavseva will work very closely with both Vizianagaram Rotary and the co-sponsoring Rotary in USA in drafting the proposal and raising the necessary funds which will then be matched by Rotary International under Global Grant Scheme.